The Conference Program of ECTI-CON 2013 is now available for download.
Events Related to ECTI-CON 2013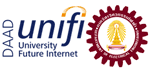 The Department of Electrical Engineering, Chulalongkorn University and the DAAD's University Future Internet (UNIFI) Project cordially invite you to attend a two day course entitled: "NEXT GENERATION NETWORK (NGN) TO FUTURE INTERNET (FI) EVOLUTION FOR SMART CITY COMMUNICATIONS – UNDERSTANDING THE ROLES AND RELATIONSHIPS BETWEEN APIS, IMS, EPC AND MTC WITHIN EMERGING SMART CITY PLATFORMS By Prof. Dr. Thomas Megedanz [Find out more]
ETSI - NBTC – ECTI/IEEE - NECTEC: Joint seminar
Another special talk by ECTI-CON 2013 keynote speaker, Dr. Gaby Lenhart, entitled: "Telecommunications Standards: a Lesson Learn from Europe to Thailand" on May 15, 2013 at 9 – 11:30 AM (Venue: MTEC#120, NSTDA, Patumthani) [Find out more]
Accommodation booking at ECTI-CON 2013 venue
The Accommodation Booking Form for Maritime Park & Spa Resort can now be downloaded from the Venue and Accommodation page.
Official letter for expense reimbursement
The official letter for expense reimbursement of ECTI-CON 2013 participants from Thai state universities has been uploaded in the Registration Information section.
UNIFI @ ECTI-CON 2013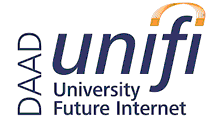 UNIFI is an initiative of the Chair of Next Generation Networks (AV) at Technische Universität Berlin aiming at building sustainable teaching and research infrastructures in the areas of Future Internet. In May 2013, the Special Industry Session of ECTI-CON 2013 is welcoming the contributions from main partner universities of the UNIFI project with the following tentative program that is open for all research/academia/industrial participants of ECTI-CON 2013 event. [more]
Welcome to ECTI-CON 2013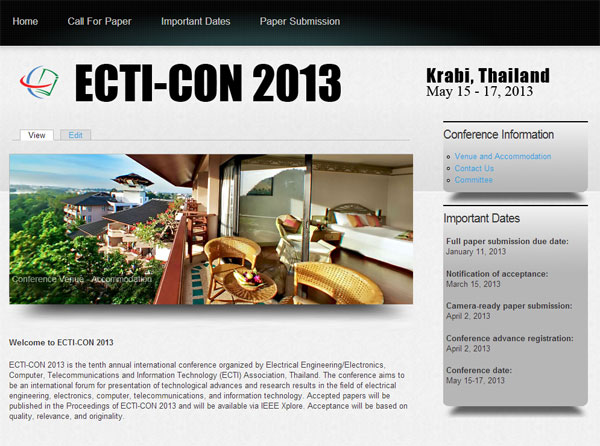 ECTI-CON 2013 is the tenth annual international conference organized by Electrical Engineering/Electronics, Computer, Telecommunications and Information Technology (ECTI) Association, Thailand. The conference aims to be an international forum for presentation of technological advances and research results in the field of electrical engineering, electronics, computer, telecommunications, and information technology. Accepted papers will be published in the Proceedings of ECTI-CON 2013 and will be available via IEEE Xplore. Acceptance will be based on quality, relevance, and originality.
Conference Host
Important Dates
Full paper submission due date:
January 11, 2013 January 31, 2013
Notification of acceptance:
March 15, 2013 March 22,2013
Camera-ready paper submission:
April 2, 2013 April 17,2013
Early-bird registration:
April 2, 2013 April 17,2013
Conference date:
May 15-17, 2013